The 2022 season brought unprecedented weather conditions that challenged our grazing processes and projections. As in years past, we relied on our ability to innovate and adapt our systems and expectations so that we could maintain the health of the land and the animals in our care. Despite the uncertainty and impact of the historic drought and dry spring, we were able to manage for improved biodiversity, substantially improved our grazing team, and tried new innovative technologies. We also strategically developed new partnerships with the Eames Institute and Triangle G, created and piloted an internship program, and improved and developed infrastructure to build our capacity to manage regeneratively for future seasons. Through it all, we remained focused on developing a team that is responsive, thoughtful, resourceful, and deeply committed to the land and animals in our care.
Grazing Recap
The past year was defined by a bifurcated wet season that converted our typical six-month rain pattern into two smaller rainy seasons with a long dry spell in between. In October, we received unprecedented rains of up to 18", which refilled reservoirs and initially provided adequate drinking water for the animals. Additional rains in December set us up for a strong 2022 grazing season. However, beginning in January, we experienced a substantial dry period that lasted through March. It was the longest dry period in the middle of a rainy season on record, and this weather pattern significantly impacted grazing, grass regrowth, operations, and general sanity. As always, we were able to innovate and work with our partners to be flexible and overcome these unexpected challenges.
Based on our early grazing projections, we planned to have a total of around 14 loads of cattle (50,000-lb semi-truck loads of about 1260 head) throughout the season across the entire management portfolio. Starting in January, two loads were going to be at SMI, Green, and Hellman, and four loads were slated for Hilltop. To manage for the huge spring flush we have historically gotten, we scheduled an additional two loads of cattle to arrive in March, one each for SMI and Hilltop, which typically helps us stay on top of the annual vegetation. We also scheduled two loads at Taylor and Glen Ellen and three loads between Cayetana and Eames. But, as the saying goes, the best laid plans often go awry.
We cared for the land and animals through January and February without much operational or grazing disruption. By March, the dry spell began to take a toll. We noticed the grass wasn't recovering as quickly as expected after we'd done a full grazing rotation. It was very short and tight, and we determined the land couldn't withstand increased grazing pressure. As a result, we made the tough decision in early March not to take on the additional two loads of Winecup cattle at SMI and Hilltop as we had initially planned. Hilltop, which includes Mitsui and Walsh, was especially hit hard by the dry period, and the grass was very short as we were coming in for our second rotation. We decided it was best to ship a portion of the cattle home early to alleviate some of the pressure there, so we sent back two loads in mid-March. As a result, instead of having eight loads of cattle between the two ranches as we'd planned at the beginning of the season, we ended up with only four loads total at SMI and Hilltop. We are grateful to our partners at Winecup-Gamble for taking the hit last year, as their flexibility truly helped us navigate the situation.
In April, shortly after destocking in response to the drought, we got a little bit of rain. With the reduced grazing pressure and increased recovery periods, the grass rebounded very quickly. In fact, at SMI and Hilltop, we ended up with more grass than we could handle after returning some of the cattle in mid-March. Stocking rates were further challenged when Winecup-Gamble decided to breed their animals early and requested we return them in mid-May. After some negotiation, we were able to return a portion of the cattle and keep the rest until July to manage the existing vegetation at SMI properly.
Thanks to the ingenuity of our team and partnerships, we maintained appropriate stocking rates at SMI, Green, and Hellman throughout the year. You can either have more cattle for shorter or fewer cattle for longer. Winecup needed some animals back earlier, as we mentioned, but they let us keep fewer cattle for longer. Thus, we extended the grazing season longer than usual to properly graze the vegetation with the remaining cattle we did have. Overall, Green, SMI, and Hellman looked good by the season's end.
At Taylor, we intentionally stocked below maximum density because we didn't feel confident the water system could sustain its fullest grazing capacity. The grass was similarly tight in March and April as at other properties, but we did an excellent job of rotating the cattle around fully, which is a serious challenge given the property's heavy public use patterns, aggressive topography, and tree cover. In midseason, we moved some cattle from Taylor to Glen Ellen to help manage the vegetation at Glen Ellen. The grass was so strong at Glen Ellen that we didn't bring them back to Taylor until May. As a result, Taylor had a bit too much grass at the end of the season, but we were able to manage Glen Ellen's vegetation well. Nonetheless, the Parks were very happy with the job we did.
Typically, at Cayetana, we have 3-3.5 loads of cattle. Onboarding the Eames Institute this year would have allowed us to have a fourth load grazing there. However, given Cayetana's record with drought, we made the strategic decision to maintain our previous stocking level despite taking on 30% more land. So, for a land base that could handle 200,000 lbs of cattle, we stocked it with 150,000 lbs or three loads. This stocking rate allowed us to graze Eames perfectly and strategically ease the grazing pressure on Cayetana so that it could rest and recover. We managed both properties without much stress and were very close to hitting our grazing targets for the season. Notably, at Eames, we decreased the time cattle spent in San Antonio Creek from 365 days per year to just 20 days last season, a significant decrease in impact. We also left cover and residual vegetation on the ground on Eames that historically has not been there due to overgrazing. 
Infrastructure- Improvements on Leased land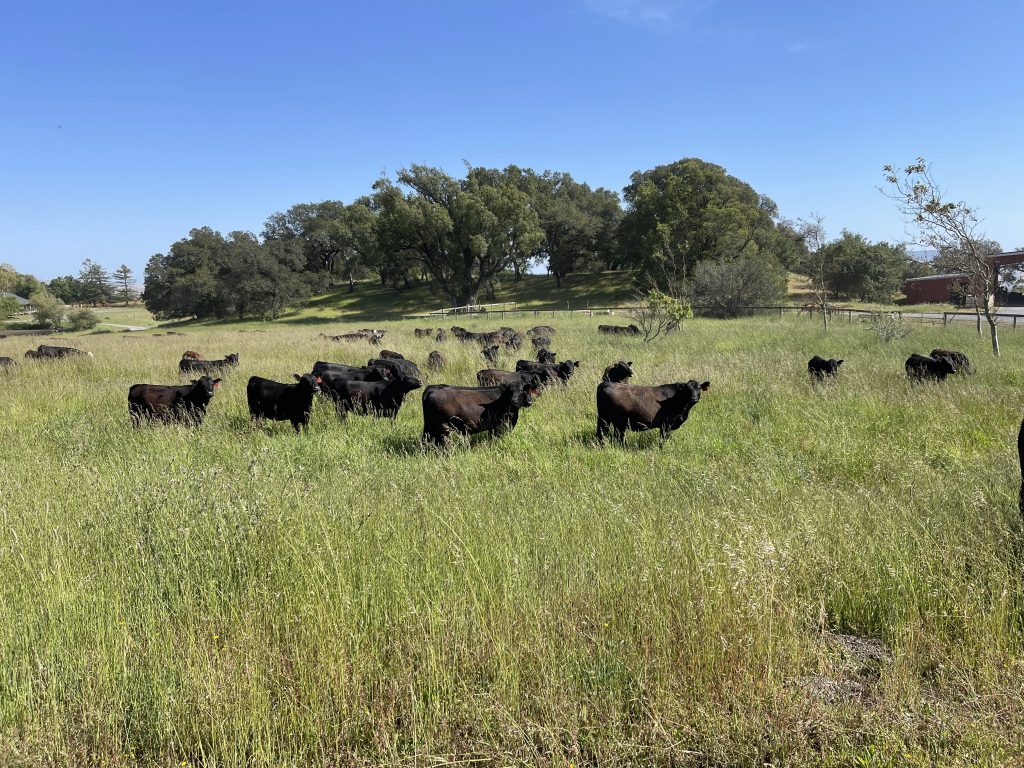 The 2022 season brought considerable strides in infrastructure and capacity building at SMI. We onboarded two new properties this year, Triangle G and the Eames Institute, which allow us to expand our capabilities exponentially in future seasons. This season also brought the expansion of our team with the addition of Aaron Gilliam, an advocate of process-based restoration, watershed restoration, and beaver dam analog systems.
We also strategically experimented with a couple of programs this season. The first was the implementation of Vence, a virtual cattle management system, and the second was a pilot internship program in collaboration with the Center for Land-Based Learning. Both initiatives provided valuable learning opportunities.
Triangle G
Onboarding Triangle G has been another substantial project this year. It's a 1,700-acre ranch with three owners, forty years of deferred maintenance, 12 miles of external fences, and 10 miles of defunct interior fence. A defining feature of Triangle G is that it allows us to run several properties together: SMI, Green, Hellman, Triangle G, and, eventually, Hilltop together with Mitsui and Walsh. In the 2023 season, we plan to run eight loads of cattle with about 800 head on Triangle G/SMI/Green and Hellman. We plan on running four additional loads or 400 head separately on Hilltop (Walsh/Mitsui). That is relevant because, if we eventually connect the properties in this corridor, we could combine the two herds into 12 or 14 loads with up to 1,400 cattle. Restoring the migration pattern of Sonoma Mountain with a mega herd of this size is part of the vision for Triangle G, but we must walk before we can run. The 800 head between TG/SMI/Green and Hellman is a huge logistical challenge, especially in terms of meeting our water needs. As we onboard Triangle G, we're thinking and planning for the infrastructure and resources needed to have a massive 3,500-acre corridor with a mega herd going everywhere.
Our first step this summer was for our team to do a thorough site analysis at Triangle G, which included walking every foot of the exterior fencing and coding it for repair or replacement on mapping software. We've also done the same for the interior fencing, so we have rigorously examined more than 20 miles of fencing. We're currently working with contractors to replace three miles of fencing before the cattle come for the 2023 season. We've provided a 10-year plan for Triangle G ownership to replace 50% of the fencing in the next three years and 100% by year ten. They received the recommendations relatively well.
In addition to the fencing, we also conducted multiple site analyses this season. We worked with *the*Jim Coleman to perform a 10-point baseline monitoring assessment of vegetation on the property. We also thoroughly analyzed the existing water sources (ponds, vernal pools, springs, etc.) on the Triangle G properties, including all the defunct forty-year-old water system components. As part of the water system site analysis, we began designing a future water system for an NRCS grant for the property. We've spent months designing and ground-truthing a new water system with 10 miles of distribution pipeline, 50k gallons of storage, and 20+ trough locations. We're working with NRCS to get that project funded.
This season, we repaired Triangle G's existing corrals to be functional in the south for the upcoming season. We identified multiple pond failure points across the ranch and worked with the owners to put in better spillway systems and dam repair. We're also working with the Triangle G team to identify and develop old defunct springs on the property. They had 40,000 gallons of storage that had fallen offline and wasn't working. Our team repaired that storage system and connected it to a forgotten spring, so it's functioning again. We're also working to capture all the institutional knowledge from the previous operator at Triangle G for future use.
Eames Institute
This season, we formed a new partnership with the Eames Institute, a 300-acre property contiguous with Cayetana. The ownership at Eames is very interested in ecological restoration and is supportive of our restoration work. The team had to get the ranch serviceable at an infrastructure level before we could run cattle on it. We collaborated with Eames and a third-party contractor to replace ~1.5 miles of fencing that improved ecological management and safety along the roadside. Our team also repaired fences throughout the property to make different parts of the ranch serviceable.
We supported Eames in finding a great contractor for a critical spring repair project at the property. The previous contractor had installed a spring design that was outputting less than a gallon a minute, and now it's producing 2.5 gallons per minute. The system includes new cutting-edge storage and trough combos, called Storage Drinkers, that have helped to get the animals out of San Antonio Creek. Overall, we helped Eames find the contractor, source the parts, and implement the system, including finishing all the above ground plumbing ourselves. This new system feeds the ranch home on the property, so it is both the domestic and agricultural spring. We've had several meetings with the Eames owners, including one influential one with Brock Dolman, about restoring the San Antonio Creek watershed, and we're excited to move in that direction.
This season, we also designed a corral system at the property that will allow us to receive and ship cattle out of Eames, which will vastly improve our current process. Thus far, we've been transporting animals out of Cayetana, which requires rare and expensive specialized trucks due to its terrible access. Eames is on San Antonio Rd, so it's great to have a facility we can use to quickly and conveniently ship and receive cattle. Because the safety of our team and our animals is of utmost importance, we designed the system to include a squeeze chute, which ensures that we keep everyone safe during handling. The corral system is a $50,000 system, and installation should be complete by the end of 2022.
Cayetana
This year's infrastructure upgrades at Cayetana focused on replacing fencing, repairing corrals, and upgrading drinking areas. Several drinking troughs were never installed correctly, which led to extensive eroding of the areas around the troughs over the years. The team re-rocked and re-graveled these trough locations, which allows the animals to drink without further causing erosive damage to the landscape surrounding them.
We installed new five-strand barbed wire fencing behind Cayetana's deer camp and gathering area to replace the disintegrating fence. We also repaired the wooden corral holding pen that has been deteriorating for years. Additionally, we installed one Vence communication tower as part of the Vence collar experiment we undertook in 2022.