Petaluma
This was our 6th year grazing on the Petaluma Ranch, managing 25 paddocks on over 390 acres. After securing an NRCS grant to install a permanent electric fence system throughout the ranch, we were able to install a state of the art electric fence system. This enabled us to have better and more consistent control over animal movements, which aids in making management more simple. This is very helpful as we had four herds this year and improving infrastructure is key to making sure we can manage well and smoothly.  Overall this year we had a total of about 170 dairy and beef cattle that were brought upon our property to graze. 50 of those beef cattle ended up supplying Whole Foods as organic, animal welfare certified, grass fed and finished beef. 
 The average animal days per acre was 26. Overall, we were happy with how this grazing season turned out and with all of the management decisions made. 
Glen Ellen Grazing
Since Glen Ellen was the first property we ever managed the grazing on, this was our 7th year having cattle graze upon the property.  We brought 29 dairy cattle to come over the 115 acres for four weeks in June and July. We chose to graze the property late as we knew that we wanted to make sure the tall thatch that grows in May and June was trampled. Additionally, since Nate Chisholm's home burned down on the ranch we did not have onsite cattle care. So our plan was to have a fast and effective grazing event due to the smaller nature of the property and it's limited infrastructure onsite. We were mildly concerned about the health of the cattle grazing such a quantity of  lignified feed that late in the season. So we worked with the cattle owner to provide them with a high protein supplement during their time at Glen Ellen. This worked very well as the animals ate and trampled the grass and also maintained great health during their stay.
Hardy Grazing
This was our third year managing the grazing on now 3 paddocks which cover the  200 acres of rough terrain.  About 80 Angus cattle and 50 Dairy Heifers were brought to graze on the property for two rotations. One rotation was for 10 days the other for about 25 days.  It's useful for us to use this property as a secondary place to the Petaluma Ranch to place the cattle during high rain events. It's also useful in case we run out of grass at the Petaluma Ranch and need to go somewhere for a second rotation. 
Cayetana Grazing
2018 was the third year for grazing on the 1500 acres of Cayetana.  Between December 12th and June 8th there were 284 Angus cattle to graze the 8 paddocks.  Historically, this property had been extremely overstocked with animals and the entire 1500 acres was run as one paddock. Having improved the paddock numbers to 8 has improved the management impact. We also secured an NRCS grant this season to further subdivide the ranch with a few more paddocks which we are carrying out this Fall. Overall, the cattle did well and had an average ADA of just over 23. Helped support 275 organic and animal welfare certified cattle to end up in Whole Foods market. Our vegetation monitoring program we run in partnership with Jim Coleman has shown encouraging results in terms of changes since we began management including:
A 54% average relative increase in the total number of plant species (biodiversity) across the 8 plots we annually monitor.

 

A 105% relative increase in the canopy coverage (space the take up) of native plant species (native biodiversity) across the 8 plots we annually monitor.

 

A 50% relative increase in the total number of new native plant species (native biodiversity) across the 8 plots we annually monitor.

 

A 75% relative increase in the canopy coverage of perennial species across 7 of the 8 plots we annually monitor.

 

A 37.23% relative decrease in invasive species plant composition across the 8 plots we annually monitor.
Hill Top Grazing 
This was our fifth grazing season having cattle graze the Mitsui, Walsh, and Pangea properties.  These three pieces of property are contiguous and together total just over 1,037 acres on the top of Sonoma Mountain. The first of the properties is Mitsui Ranch and it is the largest piece of property at 632 acres. It is owned by the Sonoma Mountain Ranch Preservation Foundation (SMRPF). The second property is owned By James and Sophie Gray and is 128 acres. The third property is called Walsh and is owned by the Sonoma County Regional Park System and totals just over 280 acres. 
With a total of 35 ADA, 175 Dairy heifers came and grazed over the three properties/ 23-27 paddocks for another successful year.  This year we worked with a organic dairy who supplies clover milk and his dairy supplied all the cattle for hilltop. We were able to stagger the cattle (deliver) onto the ranch starting in November and staggered off (de-stock) in July. Working with this local producer allows us flexibility to get onto and off of properties easier than with other remote producers. We considered 2018 a real success on the ranch as our partnership with SMRPF and Sonoma County Parks is very strong and we are getting better at managing each location effectively.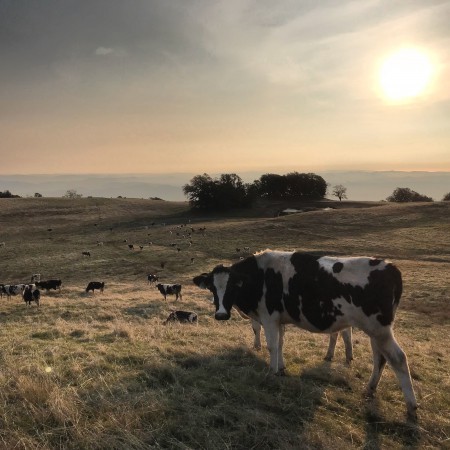 Taylor Mountain
Because of the work we have been able to do on Hilltop with the Walsh property and the success we were able to achieve in regards to vegetation Improvement, the park system offered us the lease at Taylor Mountain. Taylor mountain is in 1,100 acre ranch, that is open to the public. Historically, the ranch was run as one paddock, and sections of it were seriously overgrazed while others were left un-grazed.  We obtained the lease in 2017; however, it took us into 2018 to get the infrastructure sufficient for any sort of grazing. 35% of the perimeter fence was almost non-existent, and there were no interior fences at all.
We worked with the parks over the fall and early winter to repair and replace sections of perimeter fence as well as install permanent and temporary electric interior fence. It took us until about February to get the ranch serviceable to bring  cattle as well as to organically certify the property. We worked with the dairy producer who supplied us with cattle for Hilltop to provide the majority of the cattle. Additionally, we had some cattle that were purchased beef animals that made up the total cattle group of almost 80 head. The cattle started grazing in February and stayed until July. We only grazed the 65% of the ranch that we could actually get fenced this season. With the internal fences that we installed we were able to get much more grazing impact across parts of the ranch that were previously un-grazed. 
Initially, we were concerned about the interaction with the public, and problems that could arise. However, after a season of grazing at Taylor the public has actually been fantastic. The dairy cattle were very calm and enjoyed interacting with people. Parts of the property that were overgrazed finally got some rest and parts that were under grazed finally got some impact.  The parks have done a fair amount of vegetation monitoring on the property so we did not perform any baseline assessments; however, we look forward to seeing the parks observations as they move forward in their monitoring program. So far the feedback from the parks has been very positive and they have enjoyed having SMI as a restoration raising partner.  One other success is that we are actually considered a service provider with the parks and they pass a nominal fee in order to do so which, to our knowledge hasn't been done with cattle before in Sonoma County. We are either the first or one of the very first organizations to be paid to provide a restoration grazing service. This is a huge success in our opinion, and we're excited for what the future holds.  
Species Count
Each year that we have grazed on a piece of managed property we have compiled a list of all of the species found within our monitoring points.  It has been truly exciting to see through collected data the impact that grazing has had as the number of total species found on each property has only increased every year since we started managing grazing. 
Glen Ellen:                         Petaluma:                               Caytana:
2012: 57                           2013: 49                                 2016: 52
2013: 67                           2014: 82                                 2017: 66
2014: 72                           2015: 96                                 2018: 74
2015: 83                           2016: 119
2016: 94                           2017: 134
2017: 97                           2018: 146
2018: 100
Total Gain: 43                   Total Gain: 97                         Total Gain: 22
Pangea:                            Petaluma:                               Caytana:
2015: 21                          2015: 45                                2015: 42
2016: 28                          2016: 64                                2016: 58
2017: 32                          2017: 68                                2017: 62
2018: 34                          2018: 75                                2018:71
Total Gain: 13                  Total Gain: 30                         Total Gain: 29