This was our second grazing season having brought on an additional three pieces of property to manage using cattle as a regenerative restoration tool. These three pieces of property are contiguous and together total just over 1037 acres on the top of Sonoma Mountain. The first of the properties is Mitsui Ranch and it is the largest piece of property at 632 acres. It is owned by the Sonoma Mountain Ranch Preservation Foundation (SMRPF). The second property is owned By James and Sophie Gray and is 128 acres. The third property is called Walsh and is owned by the Sonoma County Regional Park System and totals just over 280 acres.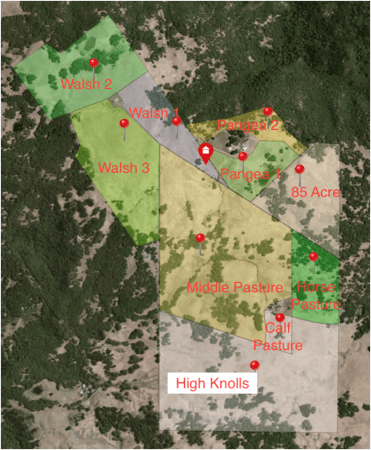 It should be noted that in this report we reference grazing in various paddocks for certain lengths of time. It should be noted that when we refer to these areas, we are only referring to a small portion of them. We subdivide the larger interior paddocks into much smaller areas with temporary electric fencing. We do not in this report go into detail of the specific location of temporary fencing as that can be found in our grazing reports and management location pages on the Sonoma Mountain Institute Website:
(http://sonomamountaininstitute.org/management-location/).   
Last grazing season in March – June 2015 we ended up getting started quickly as the lease wasn't finalized until right before the season and we didn't have as much time to use more robust holistic planning process before getting started. However this new grazing season coming up would be different as we had a good deal of experience under our belts with the property and some time to plan and upgrade the interior infrastructure in order to support better ecological management.  
We worked together with the resident biologist and property manager to come up with a long term infrastructure and management plan on the Mitsui ranch for the coming season. We used a modified version of the Holistic Land Planning Protocol and developed our future ideal landscape and the infrastructure necessary to support it. After putting together a robust design in collaboration with the SMRPF team they committed financial resources to the materials for the fencing portion of the design and we (SMI) committed the labor and technical expertise for installation. Additionally the SMRPF team had been working for years on a water system of tanks and troughs independently that was also going to be mostly installed by the beginning of the grazing season which we truly appreciated. We also carried out a similar process on the Walsh property as well using similar tools, strategies and materials for permanent interior electric fence design.
We finished the construction of the infrastructure mostly by December as we were getting ready to receive our cattle for the year. We were receiving a heard this year from two different operations, one a local organic dairy and the second from a very large grassfed beef supplier to Whole Foods Market. We had about 156 cattle total on Hilltop that weighed about 92,000 pounds to begin with. We had decided after the end of the 2015 grazing season in June of that year that we wanted to come back earlier to graze this next season than we had in the past.
Grazing after June and July becomes more difficult in our area as the streams and ponds dry up, the forage loses quality and the electric fences do not work as well due to decreased humidity in the soil. We decided that it would be better to leave a good deal of forage behind in June of 2015 and come back and graze that older standing forage with the short green forage that comes in the late fall with the rains. We ended up receiving cattle in December of 2015 for the 2015-2016 grazing season and we had a large stockpile of grass we had left behind. The new green grass that was coming up with the early rains made for a good ration for the cattle of longer older more carbohydrate rich grass from the previous season, and short protein rich grass from this new season.
The season got going in December and our hypothesis of a smoother grazing season with starting earlier began to pan out overall. One of the interesting benefits of grazing older material in the rains is that the cattle integrated that material into the soil better than if we had grazed it in the summer. Grazing at this time of year seemed to increase the overall positive effects of trampling in forage, though we will have to look at our monitoring records in the future to validate this theory.
We started our grazing for the season on the Mitsui property. As we moved through the property we chose to keep the animals moving into new paddocks at a fast clip and chose to leave behind a lot of the material they trampled. We chose to do this, so the animals would stay on a high plane of nutrition and that the trampled material would be left for cover and integrated back into the soil. We could have gotten more feed out of the material, but for the sake of the animals and the soil we thought it best to keep them moving. As a result the animal days we harvested in the fall/winter were a lot less then were actually there on the landscape. So while our grazing records indicated we grazed 11 animal days to the acre on the first rotation we likely had 20 to 25 ADA's present.
As we progressed through the Mitsui property it became clear that permanent infrastructure allowed us to achieve density and precision management much more effectively. The cattle were not getting out of their paddocks at all, and the fences were much more resilient to weather. Additionally, we could set up more paddocks with ease as the permanent electric fence made division shorter, straighter, and more resilient.
We finished grazing the first rotation on the Mitsui Ranch on February 5th and moved onto the neighboring Walsh property. We had stockpiled forage on Walsh from the summer of 2015; however, by February of 2016 the weather had diminished its feed value on top of the fact that Walsh doesn't have great feed value to begin with. So we decided to move the cattle quickly through Walsh, making sure to get the impact we needed, getting thatch on the ground, cattle fed, but not at the expense of animal performance. All that being said it was looking like there was a lot more grass species coming in than the previous year and less thistle overall, so we were feeling very encouraged.
We moved out of the Walsh property and back on to the Pangea property on February 18th. This year Jeremiah Stent had built us an amazing 1000 gallon portable water trough trailer and we used it at the Pangea property with great success. Pangea is a beautiful ranch and it was visually looking better than the year before as well. Setting up Pangea to graze is the most labor intense of the properties on Hilltop as it doesn't have secure perimeter fences for the cattle, any internal fencing, and has many areas that need to be fenced out. However due to it's small size we only have to be there 3 – 5 days at a time, and we get to help create a more unified and beautiful landscape across the mountain.
We ended up back at the Mitsui property on February 22nd to finish grazing a few paddocks we passed on they way to Walsh. By March 2nd we were back where we originally began grazing in December of 2015. The pasture had 75 days of recovery, and the grass had 2 or three new tillers of leaves after the last grazing event, however the new growth was still fairly short. We had planned on the grass really starting to pump growth by this point, but it looked like the season was behind a little. We were supposed to get another shipment of cattle around this time to address the huge surge of growth that takes place in spring. As the grass just looked a little farther off for more robust growth we decided to shift those additional cattle that were supposed to arrive on Hilltop to land at the newly acquired Hardy property instead. Luckily, we work with great suppliers and they were flexible and amenable to sending the additional animals to another location.
We performed another full rotation around Mitsui and by April 1st we were were back to the Walsh Property for a second rotation. However, before we moved the cattle to Walsh we had installed a similar permanent electric fence on the Walsh Property as the one we had on Mitsui. It also made management more effective, simple, safe and fun. Also by this point in the season it began to look like a lot of the species that were coming up where new, and replacing some of the thistle that dominated the Walsh landscape.
As we moved back into Pangea off of Walsh on April 17th it seemed like more biodiversity was showing up here as well. Clovers and wildflowers and native species that we hadn't seen. By april 21st we were back to Mitsui and the ranch was pumping with more grass than we were going to be able to handle with the size herd we had. While it was the right decision to send the second group of cattle to Hardy as the ecology was not ready at Hilltop for them, we were now ready and had more feed than we needed.
You never get it perfect and there is always tradeoffs. However, we knew that we would be able to have a great stockpile of forage for grazing early at Hilltop the next winter season. At that point we would be able to integrate a lot of this now growing material back into the ground nurturing the organic matter and life in the soil. So all the forage now growing was like ecological money in the bank for the following years to come from our perspective.
When we moved back to Mitsui on the 21st of April we were back into Middle pasture for a second rotation and by that point Middle pasture was simply gorgeous. We only grazed a small portion of Mitsui for a third rotation and that was High Knolls which at that point was well recovered and ready to go. The Cattle shipped out for the season on June 7th and the loading and shipping and weighing went off without a hitch. It felt like a great successful season.
We had only one animal that needed to be treated with medicine all year and the animal performance and health was great. The cattle as to be expected did not gain weight through december to February. However, after that they started to pack on weight with some months of 2.5 pounds a day and others 3.5 pounds a day. The overall season average was 1.7 pounds gained a day, which considering we had them over winter felt pretty good. All the owners were satisfied with the performance and overall animal health as well as how calm the cattle had become. All owners appreciate the low stress livestock ethics we have and mention how calm the cattle seem to be upon shipping.
As for the ecology, the monitoring results looked favorable. After 1.5 grazing seasons all three properties showed increases in native species, biodiversity and decreases in invasives like thistle. Mitsui showed a 29% relative increase in Native species and a 59% relative increase in overall species. Walsh showed a 37% relative increase in Native species and a 39% relative increase in overall species. Pangea showed a 72% relative increase in Native species and a 102% relative increase in overall species. It is looking like the needle is moving in the right direction.
Overall 2015/2016 was a great grazing season on Hilltop. We are learning how to become more effective at using infrastructure to support ecological management. The animals and land showed indications of health and improvement. We also had a lot of fun making it all happen. While we had a few hiccups to learn from we are excited at what the next years have instore for us managing land at Hilltop and beyond.